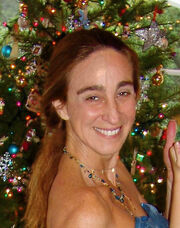 Diane Eskenazi is the producer, writer and director of Golden Films.
Biography
Edit
Diane Eskenazi has founded Golden Films in 1992. She has produced and directed 80 award-winning movies for kids, distributed by Sony and Columbia Tri-Star.
Aside from her movie career, Eskenazi is famous for donating money and much needed supplies to orphans around the world and for disaster relief. She has also formed a non-profit organization named Peace Builders. She has contributed over $80 million worth of medical supplies across the world.